True golfers always prefer to play real golf games on an actual golf course. However, backyard golf games can be great fun as well. It's an excellent option for avoid golfers, novice golfers, and non-golfers alike.
We've all heard of great games like cornhole, battleship and pong, but are there golf themed versions of these games? Yes, there are!
Here we'll explore three of my favorite back yard golf games. We'll explain each game, discuss the pros and cons of each yard game, and look at what others are saying about these backyard golf games.
All these games are perfect for the backyard, your local park, or tailgating. They can each be adapted for different types of games or individual practice. You won't be disappointed with any of them.
Let's get started with these great backyard golf games!
Golf BattleChip Backyard Golf Game
Golf BattleChip is by far the best backyard golf game around. If you can't get out for a real round of golf, this is the next best thing.
GoSports did a great job building this game. The quality of the materials is excellent and the scoring system is well thought out. Highly recommend!
Sale
GoSports BattleChip Versus Golf Game - Includes Two 3 ft x 2 ft Targets, 16 Foam Balls, 2 Hitting Mats, Scorecard and Carrying Case
BATTLECHIP: An exciting new hybrid between golf and cornhole for the ultimate outdoor game; Easy to learn and includes rules for several fun games
PREMIUM CONSTRUCTION: Includes two 3 ft x 2 ft wood framed targets, hitting mat, 16 foam balls, scorecard and tote bag; Set is fully portable and can be taken anywhere
TOURNAMENT PLAY: Compete against friends over 9 holes of action and keep score on the included dry erase scorecard; Board hits are 1 point, front hole is worth 2 points, center hole is 3 points and back hole is 5 points
CHIPPING IRON NOT INCLUDED: B.Y.O.C. - Bring Your Own Club; We recommend using a Wedge, Sand Wedge or Lob Wedge for best results
FUN FOR ALL: Great for all ages and abilities; Watch as your Battlechip fun turns into better chipping on the course
What's Included With BattleChip
Golf BattleChip includes two high quality turf covered targets, two hitting mats, 16 soft golf balls, one dry erase scorecard, and a convenient travel case. Golf clubs are not included, so bring your own!
The two targets are made of solid dark wood and covered in nice green turf. Each target has three hole, the smallest one on top and the largest on the bottom. Each hole includes a high-quality net to capture the balls. The hitting mats are both made of the same quality green artificial golf course turfgrass.
The 16 soft golf balls come in four sets of four balls. Each set of golf balls is a different color (red, blue, orange, and yellow) allowing up to four players to compete at the same time. The dry erase scorecard and travel case are also of good quality and easy to use.
How Does BattleChip Scoring Work
When playing BattleChip, you're awarded different points based on where you hit the ball. Make it in the smallest hole, earn 5 points! The middle is worth 3 points, the small hole is 2 points, and you earn one point just for hitting the surface of the target board.
You compete over nine holes as individuals (1-4 players) or as teams of two players. Unlike real golf, the player or team with the highest score at the end wins.
Maybe the best part about games like this is making your own scoring variations. Match play might be even more fun than stroke play with this backyard golf game. You could even play in a Nassau format over 18 holes instead.
What People Are Saying About BattleChip
Golf BattleChip has tons of positive reviews. People love it for tailgates, BBQs, house parties, and all kinds of other events. The materials are of great quality and very sturdy.
Some people have complained about damage during shipping, and there are still some that wanted the golf clubs to be included.
Pro Tip: Get this game! It's fun for the whole family and will help you improve your chipping and pitching.
Golf Cornhole Backyard Golf Game
Everyone has played cornhole (sometime called bags), but have you ever played golf cornhole?
Vulcano Sports has developed an excellent game set for a backyard game of golf cornhole. The Golf Cornhole Game is perfect for individual chipping practice, competing against friends, and bringing excitement to your next gathering.
This game is similar the BattleChip game described above, but the quality isn't as great.
Sale
Par 1 Backyard Golf Cornhole Game, Golf Gifts for Men, Golf Accessories for Men, Golf Chipping Game, Golf Equipment, Golf Games for Adults Indoor, Golf Stuff, Golf Training Equipment, Golf Gift
THE PERFECT GOLF GIFT - With our cornhole golf game you can keep score, practice chipping, or simply have fun challenging friends and playing golf games in a cornhole style but with the skills, only a golfer brings to the game.
ESSENTIAL GOLF ACCESSORIES FOR MEN - Includes 16 soft foam golf balls in different colors to allow up to four players to participate and make it safer to play without breaking those outside windows. Great for indoor golf or golf practice.
INDOOR/OUTDOOR GOLF TRAINING EQUIPMENT - Crafted with durable PVC tubes and tear-resistant fabric you can easily set these mini golf at a tailgate, barbecue, or anywhere you want to challenge friends to an outdoor yard game. Golf clubs not included.
OUTDOOR GAMES FOR ADULTS AND FAMILY - Includes a compact storage case so you can pack it up and play it anywhere. Making this set ideal golf gifts for women, golf gifts for men unique, camping gifts, and outdoor games for adults, camping games.
US-BASED BUSINESS - Looking for the perfect golfing gifts for men? Our family-operated business is based in Austin, TX. and we take great pride in creating the best golf accessories. Designed for golfers by golfers.
What's Included With Golf Cornhole
The set includes two cornhole boards, two hitting mats, 16 soft golf balls, one scorecard, and a travel case.
The two cornhole boards function as the targets. Each board includes three holes with a net to catch the balls and allow easy score keeping. The target boards are made of strong PVC tubes and rest at a perfect angle for chipping and pitching.
The two small hitting mats provide a solid clean surface from which to strike the ball. The turfgrass is good quality and should last a longtime. The mats are on the smaller side, so they occasionally move around when hitting.
The 16 colorful golf balls are soft and playable. They come in four sets of four, each set with it's own color: white, blue, orange, and yellow. This allows four players to compete at the same time and easily keep track of which player scored which points.
The score card is small but effective, and the green travel case easily accommodates all the components of this exciting backyard golf game. We recommend adding a drinking game component to further enhance the experience!
What Do Users Say About Golf Cornhole
Unfortunately, golf clubs are not included. This was the biggest complaint among users. Fortunately, almost everyone has a few golf clubs lying around and the problem is easily resolved.
Otherwise, the comments are very positive. The backyard Golf Cornhole Game is praised for easy assemble and enjoyed by golfers and non-golfers alike.
Pro Tip: If you're confident in your aim, feel free to swap out the soft balls for real golf balls. This change makes it a solid home golf training aide.
Backyard Golf Pong Game
Golf Pong is another game from Vulcano Sports. The setup is similar to the cornhole game described above, but is designed to mimic the popular drinking game of Beer Pong.
Golf Pong Game Set, Best in Outdoor Games, Backyard Games for Adults, Golf Chipping Game, Golf Gifts for Men, Best in Yard Games, Perfect Golf Gift.
Practice Chipping Skills While Having a Blast – This golf pong yard game lets you enjoy a family backyard game using your favorite golf clubs (not included) and sink those chips that make you and your friends enjoy the good times.
Custom Targets and Game Style – Set includes two target boards and multiple game modes to make chipping practice and golf pong more exciting for beginners and professionals alike. It's time to see who gets better with every swing.
Indoor-Safe For Favorite Social Events – From tailgating to backyard barbecues to college gatherings indoors we've added 16 colorful foam golf balls to allow up to four players or two teams to have fun together both indoors and outdoors.
Portable Storage Case – We've made it easier to take our golf pong game set with you anywhere you go by including a compact, travel-ready storage case that holds and organizes all the accessories so you're ready to game at a moment's notice.
Bring Your Own Clubs – Each backyard golf pong set comes with all the boards, cups, and accessories you'll need to play; you simply need to bring your favorite lob or sand wedge to help you make each game more exciting!
What's Included With Backyard Golf Pong Game
Included with the Backyard Golf Pong Game are two targets, two hitting mats, 16 soft golf balls, 20 plastic cups, and travel case. Remember, golf clubs are not included.
The two targets are made of sturdy PVC tubs and green canvas. Each target has six openings that fit standard plastic party cups and are arranged in the traditional pyramid shape.
The two hitting mats are small but perfect for this game, the green travel case works great, and the 20 plastic cups will get started for at least a few games. You will need to buy some more cups eventually. Don't be gross!
The 16 soft golf balls come in four colors. There are four of each in white, orange, blue, and yellow. This allows for four players to compete and easily track scores.
What People Are Saying About Golf Pong
There aren't too many reviews for this backyard game yet, but almost everyone is happy with the Backyard Golf Pong Game. The value was most appreciated. Assemble was a little difficult, but easier the second time around.
Pro Tip: This is a golf drinking game, you're gonna need some beers too!
Simple Chipping Practice Net
You don't necessarily need a complete game set for fun backyard golf games. A simple chipping net can be just as good.
This 2-in-1 Golf Chipping Practice Net is a perfect option. It offers a large target and various netted holes on both sides. This design allows shots to be hit from either side and enables you to easily create your own game. It also folds up nicely in a simple travel bag.
If you're looking for backyard golf practice with the option to make different backyard golf games, this excellent 2-in-1 chipping net is a perfect choice.
Sale
BAYINBULAK 2 in 1 Golf Chipping Practice Net Backyard Driving 2.5'×2.5' Golf Accessories for Men Women Gift, 1 Pack
Full Package - Includes 1 x Foldable Chipping Net / 4 x Stainless Steel Ground Stakes / 1 x Storage Bag / 1 x Illustrated Instruction Sheet. Great father's day and mother's day birthday gift for men & women.
Original Two-sided X-Large Golf Net - This Extra Large target can be used on both sides. 3 small targets on the front to improve aiming and accuracy. Two side pockets will catch missed shots. The backside has upper and lower large targets for practicing at varying distances and directions.
Improve Your Game at Home - Bayinbulak built this net for golfers to practice their approach all in the comfort of home. Can be used indoors & outdoors. Super easy to open and fold away into a small pocket within seconds. No assembly required. Will not take up space in your home.
Extra Large Size - The size of this net is: 31 inches (L) x 30 inches (W) / 79cm x 76 cm. We enlarged the net to make it more versatile. The weight is only 700g, you can easily take it anywhere you like. Comes with carry bag.
More Standout Features - Made of Sturdy hexagonal honeycomb mesh / Improved wear resistance: Black high-density polypropylene webbing wrapped around the frame / Sturdy stitching for long-lasting durability / Fluorescent green horizontal band for better visibility.
Pro Tip: Nothing shaves strokes from your handicap better than short game practice!
DYI Backyard Golf Game
Of course, there is always a DYI option. Check out this video explaining how to create your own backyard golf game. These golf pong boards look great!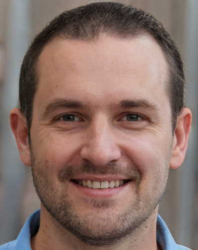 Latest posts by David Shelly
(see all)