It may seem fairly unimportant, but when it comes to buying golf equipment, finding the right golf shoes is crucial, especially if you have wide feet.
You'll be surprised by just how many golfers buy the wrong-sized shoes for their feet.

This can lead to an unpleasant experience on the course and a negatively impacted performance. By cramming your feet into a pair of shoes that are too narrow, the chances of experiencing some form of injury increase.
With foot pain already a common problem amongst golfers, this is something you definitely want to avoid.

If you have wide feet and want to find the perfect pair of golf shoes, you've come to the right place.

With so many sizes and styles of shoes on the market, we have decided to make things easier for you. To do so, we have compiled a list of the best golf shoes for wide feet.
We will talk you through each brand of shoe, looking at their overall comfort and any pros and cons. We've even included a useful buyer's guide at the end for you so you can make a good final decision.

Let's dive straight into the list!
We kick our list off with a fabulous choice. You quite simply can't have a golfing shoe list without including at least one pair of ECCO shoes.
This hugely popular brand has worked wonders when it comes to the Biom Hybrid 3 Gore-Tex Golf Shoe.

This fashionable shoe, available in four different colors is a brilliant option for golfers with wide feet thanks to their overall comfort and design.
We have the quality removable extra footbed to thank for the wonderful comfort these shoes bring us.
This extra footbed makes the shoes more accommodating and a lot more comfortable on our feet.

When we reviewed these relatively affordable golf shoes we were most impressed with the neat protection features ECCO has fitted the shoes with.
With awesome Gore-Tex waterproof technology and ECCO Tri-Fi-Grip, you can expect not only a comfortable round of golf but also a safe one.
These features protect your feet from the elements and give you more stability and rotational support.

The YAK leather uppers the shoes are also fitted with increased breathability and durability, preventing your feet from sweating on those hotter golfing days.

Pros
Strong and lightweight – These shoes are extremely comfortable and very durable.
Great features – The inclusion of Tri-Fi-Grip gives us more stability and support.
Packed with cushioning – Ultimate comfort is all but guaranteed.
Cons
Can be quite pricey – These shoes range in price. Some pairs are reasonable, while others can be rather expensive.
For golfer's with wider feet, the Nbg2004 golf shoes from New Balance are ideal. With extra spacious toe boxes, you never have to worry about cramming your feet into your shoes ever again.
You can walk on the course for as long as you want without feeling any aching or discomfort.

Instead of hot spots, blisters, and interesting smells, with this pair of golf shoes, you get comfort, good grip, and breathability.
You get all of this in a stylish shoe that also gives your toes plenty of space to wiggle.

Manufactured from 100% microfiber leather, the best features this shoe comes with are the REVlite 10 mm drop midsoles, water-resistant leather uppers, removable cleats, and a premium TPU outsole.

Together these features give the golfer more stability, responsiveness, and freedom to flex with natural motions. These are important if you want to perform at the top of your game.

When we took a look at the Nbg2004 golf shoes from New Balance, our favorite part of the shoe was the low-profile, lightweight champ Slim-Lok.
We found that this design feature helps us keep better contact with the ground, helping us swing with more power without our feet moving too much.

Pros
TPU outsoles – The TPU outsole allows you to flex your feet in a natural motion.
Removable cleats – Having removable cleats comes in very handy.
Lightweight cushioning – These golf shoes give you ultimate comfort whilst still feeling super lightweight.
Cons
Hard to get hold of – The Nbg2004 golf shoes regularly come into stock, but they sell out quickly.
Callaway already produces top-quality golf balls and clubs so it's no surprise to see that they also produce some awesome golf shoes too, especially when it comes to golfers with wide feet.
The final shoe on our list is the Balboa Vent.

The Balboa Vent golf shoes are designed to give golfers with wider feet more comfort, with an easier fit and feel.
Aside from their attractive design, which is available in black and white, these shoes are also fitted with plenty of Callaway technologies that make them a great choice.

One of the shoe's most notable features is the multi-direction traction control lugs. These can be found in the spineless soles of the shoe.
These offer a massively improved grip across the course, even in harsh weather.

When the weather chooses to treat you kindly instead, the Opti-Vent mesh liner comes into play. Opti-Vent helps to keep a steady temperature, letting your feet breathe as you play.

All of these features are great, but for us, the best feature these shoes have to offer has to be the shoes' EVA sock liner and midsole which offer unbelievable comfort and incredible stability.
This will keep your feet protected and reduce the chances of fatigue and any aches you may normally experience.

Pros
Super soft and comfortable – The Balboa Vent shoes feel amazing on your feet.
Extra-wide fit – These shoes are perfect for those with extra-wide feet.
Great price – You can buy these shoes at a very reasonable price.
Cons
Hard to get the size right – Some reviewers have stated that finding the perfect size can be tricky.
Best Golf Shoes For Wide Feet Buying Guide
With so many factors to consider when choosing the best golf shoes, things can get quite hard. To make things even easier for you, we have put together this buyer's guide.
In this guide, you will find the key things you have to bear in mind when buying golf shoes. By not considering these factors you could easily make a decision you later regret.
Related article: Do Golf Pros Wear Metal Spikes? Are They Banned?
Space
For golfers with wider feet, nothing is more important than space. When buying a pair of golf shoes you have to guarantee that your feet are going to fit comfortably inside the shoe.
If you don't do this, a negative experience is inevitable.

When picking out your shoes, make sure your feet comfortably rest inside. You shouldn't feel any discomfort. Always bear in mind that any discomfort you feel at first will only get worse over time.

Luckily, most brands make life a lot easier for us. Generally speaking, manufacturers produce a wide version of golf shoes they have produced. You should always check if the wider size is available.
This will ensure you find a shoe that fits well and provides enough comfort.
Insoles
Insoles can be soft or stiff, but they are always designed to add warmth and comfort to a shoe.
Golfer's with wider feet should always look for shoes in a wider size but if those aren't available you could look for a shoe with a removable insole.

A removable insole is handy because it can be removed if the shoe feels too cramped or uncomfortable creating more space for your feet.
Outsoles
Golf shoes with the best outsoles will give you a much better grip, improved traction, and no trouble at all when the course is wet.
Most golf shoes today feature a TPU outsole that makes sure these issues aren't a problem.

Some high-quality shoes may also be equipped with spikes and a 360° angular traction grip. Finding a shoe with these two features as well is great.
You will be able to hit the course hard without any concerns regarding slipping over or twisting your ankle.
Material Quality
Probably the most obvious thing to consider when buying a good pair of golf shoes is the material they are made out of.
You need to buy a pair of shoes that will not only offer you everything you need but also last a very long time.

Playing a round of golf requires you to walk on uneven terrain for a prolonged period of time.
If your shoes aren't up to standard, they won't last very long or could quickly become uncomfortable. This will hurt your feet and also let water in.

Materials such as rubber or microfiber mesh are usually very reliable when it comes to durability, water resistance, and comfort.
By looking out for shoes made from these sorts of materials you can rest assured while playing many rounds of golf.
Price
It can be very easy to overspend on your golf shoes, but you don't need to.
Golf equipment can be as cheap or as expensive as you make it so take your budget into consideration first.
Once you know your budget, you can start looking for shoes that suit your price cap nicely.

This will save you a nice amount of money and time. There's nothing worse than wasting time looking at a shoe, to then find out you can't afford it.
By identifying your price cap, you can head straight for the shoes you know you can afford.

It is worth noting that just because a shoe is cheaper doesn't mean it isn't as good. Some shoes may be more expensive because they are sold by a more popular brand or come with a more appealing design.
Comfort
The most common problem golfers with wider feet encounter are shoes that are too small and uncomfortable.
When looking for your golf shoes you need to make sure they come with enough features and a well-thought-out design that guarantees ultimate comfort.

It can be hard to find shoes that have what you need as they are normally tight-fitting and narrow. However, there are some things you can look out for.
The most common thing to look out for is a padded or cushioned insole, rubber outsole, and PrimeKnit features.
These three features are designed with comfort in mind. They make the shoe more comfortable, flexible, and stable.

It is this sort of shoe that can be worn all day on the course without causing any discomfort or aching.
Frequently Asked Questions
Should I Buy Spikeless Or Spiked Golf Shoes?

It doesn't matter which type of shoe you choose in terms of spiked or spikeless. It is more important to buy a comfortable shoe with waterproof features. Having said that, each type of shoe has its benefits.
A spikeless shoe is a better choice if you are more likely to play on flat courses and would also like to wear the shoe off course. Spikeless golf shoes are often preference by players that walk since they tend to be more comfortable. They also require less maintenance since there are no spikes that need to be replaced.
A spiked shoe is the better option if you are going to find yourself playing on a hilly course with varying terrain. Many players that ride in a cart (rather than walk) prefer this style.
Which Brand Makes The Most Comfortable Golf Shoe?

In regard to golfers with wider feet, there isn't one specific brand of golf manufacturer that makes the most comfortable shoe, instead, we are blessed with a handful of top brands that make a wide range of extremely comfortable shoes.

The most popular brands, well-known for selling very comfortable golf shoes include, ECCO, Skechers, Adidas, FootJoy, New Balance, Callaway, and Nike.
When looking for the shoes you want to buy, we recommend taking a look at the options all of these brands have on offer.
How Tight Should Golf Shoes Fit?

A snug fit is always necessary, but you don't need your shoes to be very tight.
The overall goal is to wear golf shoes that stop your feet from moving whilst you swing. This will reduce the chances of you hitting sliced or shanked shots.

The distance between your big toe and the shoe should be about half an inch. This will ensure your shoes fit comfortably whilst also ensuring your feet don't move too much.
This is something golfers with wide feet really need to consider. If they don't, they can expect pain and discomfort from blisters and bunions.
Final Thoughts

There are plenty of golf shoes to choose from but as long as you get the size right, and they fit comfortably you should be fine.
Not only is it annoying to play a round of golf in shoes that are too narrow or uncomfortable, but it can also cause some pretty nasty injuries.

Hopefully, now you have our list of shoes for golfers with wide feet at your disposal, as well as lots of information when it comes to finding the right pair, you can start narrowing the options down until you find a pair of golf shoes that suit you perfectly.

Owning a good pair of golf shoes will give you amazing comfort, stability, and traction so make sure you keep an eye out for only the very best features that ensure the shoes you select do just that.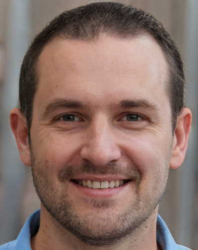 Latest posts by David Shelly
(see all)