Some golfers never drink on the golf course, but other players always drink while golfing. This one is for the drinkers! We're driving into some of the best golf drinking games on the links.
The best drinking golf games will be divided into three categories: social, fun, and crazy. But before we jump in, let's look at a few ground rules and guidelines.
Golf Drinking Game Rules
For this article, you decide what constitutes a drink; it can be a sip, gulp, shot, or whatever you want. We'll tell you want events trigger a drink, but you need to decide how much drinking is required.
These golf games can also be played using net scores or gross scores. Handicaps are great for leveling the competition in traditional match play or standard stroke play golf games, and they keep things fair in golf drinking games.
Feel free to mix and match! Golf drinking games are meant to be fun, right? Most of these games can be grouped together or pulled a part in any configuration you want.
Social Golf Drinking Games
Social golf drinking games are the most basic game options. Drinks are primarily social, meaning the whole group (or most of the group) are triggered to drink together by some special event. They're less competitive and more about camaraderie. You may not get drunk, but these golf games keep things interesting during the round.
Birdie Social
This is the most common golf drinking game. It's played at courses everywhere, and the rule is simple…
If any player makes a birdie, the whole group drinks! Often one of the players has a flask or small bottle, and each golfer takes a nip of the hooch. A sip or gulp from your beer works too. To be fair, only gross score birdies should count on this game. Considering two drinks if someone makes and eagle!
Small Straight Drinks
Card games can make great golf games, and this one is a great combination of the two.
When all the scores for a hole can be lined up in perfect order, that's a small straight and everyone in the group drinks. Any string of consecutive numbers that includes all the players for a single hole will qualify. You need a minimum of three players for this to make any sense, but four golfers are best for this golf drinking game.
Four of a Kind
Much like the small straight, this game barrows from poker and the rule should be obvious.
If all players make the same number on a hole, all the players take a drink. It's also best to have at least three players in the group which would be three of a kind instead. Playing this game with handicaps is likely to produce even more drinks.
Chips and a Drink
Holing out from off the green is one of the best things in golf. Here's an extra reward!
Whenever one player in the group chips in from off the green, everyone in the group drinks. This counts for putts from the fringe, chips from the rough, sand shots from the bunker, hole outs from the fairway, and any other time a player make a shot in the hole from off the official putting surface.
Not the Nearie
As you may know, nearie means closest to the hole in regulation. Which is a good thing.
Everyone EXCEPT the player that hits their ball closest to the pin must drink. This game is normally only player on the par 3 holes. However, Not the Nearie could be played for the nearest to the pin in regulation on every hole. Playing this game on every would move it into the crazy drinking golf games category though.
Out Is On Me – Par 3
Golfers occasionally fight over who's buying the round. This game helps decide.
The player farthest away from the hole after the first shot on a par 3 needs to the buy the next round of drink. You could play this on every hole, but again, that would put it in the crazy drinking section of this golf game round up.
Fun Golf Drinking Games
Classic High Ball
Simple rules often make the best games. As it is with this classic golf drinking game.
Whichever player makes the highest score on the hole must take a drink. Ties between two (or even three) players can be enforced. However, requiring drinks for the lone high score is more common. This game usually works best with handicaps.
Drinking High Low Ball
Have you ever played High Ball Low Ball before? This drinking game works on the same principal.
Instead of rewarding point to the team with the lowest low ball and the lowest high ball, drinks are required for the players that make the highest high ball and the highest low ball. This golf drinking game requires two teams of two golfer. Learn more about how to play the high ball-low ball golf game.
Beach Beers
Everyone finds the sand occasionally, and this game makes a trip to the beach a little better.
Every time a player hits a shot from the bunker, the golfer must take a drink. And yes, if it takes three tries to get out of the same bunker, that counts for three drinks. Just don't lay your golf towel down in the sand trap and start sunbathing.
Water Always Drinks Good
Water hazards make the course more challenging, but they also make this golf drinking game more fun.
Whenever a golfer finds a water hazard, that player is required to drink. You could expand this game to include any hazard, out of bounds, or lost golf ball to increase the likelihood of drinks.
Canada Dry Fairways (Greens)
Hitting fairways helps lower scores, but it can also help you avoid drinks in this game.
Players that hit the fairway "stay dry" for that hole. Players that do NOT hit the fairway must drink. The exact same game can be played using greens in regulation instead of fairways. Depending how accurately your foursome strikes the ball, this game can sneak into the crazy category.
Crazy Golf Drinking Games
Lower Your Score
Lower your standards would be a better name for this immoral version of golf.
Players are allowed to reduce their score for any hole by taking a drink. Each drink reduces the score by one stroke for that hole. Two drinks will knock off two shots. You might score great on the front nine, but the back nine could get ugly!
Tippin 'em Back
Do you like to play from the back tees? This game is for you.
All players tee off from the back tees, also known as the tips. Players are allowed to move up one tee box for every drink they take before each hole. Two drink moves you two tee boxes, and there is no limit until you get to the ladies or most forward tee box.
Where's Your Drink?
This golf drinking game is difficult for more than one reason. You may need a hand once in a while.
Golfers must keep a drink in their hand during the entire round. You are allowed to put the drink down while hitting, but you must pick the drink back up immediately after your shot. If you are caught without a drink, your playing partners will say "where's your drink?" and you'll be required to finish whatever drink you should be holding.
Odds & Evens: Alternate Hole-E-Crap
This one has nothing to do with the golf game, but it will get you drunk.
At the beginning of the round, players are assigned to either the even or the odd holes. Before playing a hole, the players assigned to that hole (odds or evens) must take a drink. Someone should bring shot glasses to make this easier. If you are drinking beer or seltzer, the players need to finish their drink before the hole is complete.
Aces Obviously Drink Every Time
It goes without saying, but a hole-in-one is always a drinking event. Everyone in the bar after the round should get a drink, and the player that made the ace should be buying! This is such a rare event that even golfers that don't normally drink on the course may jump in on the fun.
19th Hole
If you're the type of golfer that enjoys a few drinks on the course, give these fun golf drinking games a try. All we ask is that you play ready golf and keep the pace of play. Also be sure to get yourself home safely after the round.
You may not set a personal best score, but you'll have plenty of laughs to make up for it. Cheers!
Mini Golf Drinking Games
Most of these drinking golf games can be adapted to mini golf or a backyard golf game instead. Do you have a home putting green or turf stripe? Even tightly knit carpet and a coffee mug could work. 
The Perfect Practice Putting Green is an amazing deal. It includes quality turf and beautiful wood finishes. The distance markers also make it perfect for fun golf drinking games that can be played in the comfort and safety of your own home.
Sale
Compact Putting Mat - Indoor Golf Putting Green w/Reduced-Sized Hole - Putting Matt for Indoors and Outdoors Practice - Golf Training Aid for Home - Golf Accessories & Gifts for Men
PORTABLE - The official golf putting green of former #1 pro Dustin Johnson, our indoor putting mat enables you to level up your golf game at home, in the office, or on-the-go
COMPACT EDITION - At 8' long, these golf putting greens for indoor use feature 1-hole training to help improve your putting accuracy and reinforce the precision of each stroke.
HIGH QUALITY SURFACE - Each Perfect Practice golf putting mat is crafted with a unique crystal velvet material, allowing your golf ball to effortlessly roll as if it were out on the greens.
BALL RETURN - No need to collect each golf ball after every swing. Our golf putting mats use a convenient auto-return system that automatically rolls the ball back to you for continuous training.
CLEAR GUIDES - Great for left- and right-handed golfers of all experience levels, the Perfect Practice putting mat includes printed markings and lines to help hone your aim.
Drinking Golf Card Games
We found these great card games that can be used on the golf course. This three-deck bundle includes gambling money golf games, regular golf course card games, and drinking golf games.
Fore! Cards Game Bundle makes a perfect gift for the golfer in your life.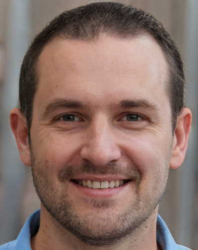 Latest posts by David Shelly
(see all)