The handicap system enables competitive golf among players of various abilities. A high handicap golfer will quickly fall behind lower handicap player when only counting gross strokes, but finding the best golf ball can help high handicap players do better.
Every golfer has a unique handicap profile under the World Handicap System (WHS). You can easily calculate your handicap and see it change as your skills improve. The WHS premiered in 2020 to unify several handicap systems.
Beginners, kids, and senior golfers tend to have higher handicaps than experienced players. Learn more about average golf handicaps with our ultimate guide. You can also learn more about what golf handicaps mean and how handicaps are calculated.
Once you know your handicap index, you can use this information to make golf decisions. Your handicap will help you choose tee boxes, find appropriate golf clubs, and select the best golf balls for your golf game.
5 Best Golf Balls for High Handicap Players
Choosing golf equipment that fits your current skill level is vital for improving your golf game. Here are the five best golf balls for high-handicap players.
1. Bridgestone e12 (Best Overall)
The Bridgestone e12 is a three-layer golf ball featuring an ionomer cover and Contact Force Dimples. The surface design increases friction between the ball and the club face on low-impact shots. Since high-handicap players tend to have a low swing speed, that friction helps launch the ball with more revolutions per minute for a straighter flight.
The gradual compression core allows the ball to accelerate quickly off the tee with less spin for a long drive.
Between the core and cover is a sidespin-reducing ionomer layer. The mantle promotes energy transfer from club to ball for rapid acceleration, straight flight, and length.
Bridgestone Golf 2021 e12 Contact Golf Balls, White, 2021 Model, One Size, 12 count (Pack of 1)
CONTACT FORCE DIMPLE creates 38% more surface contact between the golf ball and the club for more efficient energy transfer
STRAIGHT DISTANCE – Longer and straighter flight with driver and every other club in your bag
IMPROVED FEEL – Softer core contributes to significantly enhanced feel on all shots
REDUCED SLICE AND HOOK SPIN ON FULL SHOTS – The optimized aerodynamics of Contact Force Dimple combined with sidespin reducing mantle and core
MORE SPIN AROUND THE GREEN– Increased friction for better spin around the green
Pros
Reduces spin for straight flight
More friction for short-game spin
Accelerated ball speed
High ball launch
Durable
Cons
Expensive compared to similar golf balls
Mid-rate compression may be too high for slow-swinging players
2. TaylorMade Noodle – Long and Soft (Best For Your Budget)
While the overall best ball for high-handicap players is expensive compared to others, the next best ball is budget-friendly.
The TaylorMade Noodle Long and Soft balls offer an aerodynamic flight, low-compression rate, great distance, and nominal spin. They are among the softest golf balls with a compression rating of 34.
TaylorMade constructed these balls with two layers. The impact propulsion core boosts energy transfer from the club for rapid acceleration. The ionomer cover reduces spin for high launch and respectable distance. The 342 dimples keep the ball on a straight trajectory.
Pros
Affordable
Maximum spring of the clubface
Rapid acceleration
Consistent length in shots
Excellent energy transfer from club to ball
Cons
Limited spin for short-game
Best off the tee
3. Titleist Velocity (Best Greenside Control)
Several balls that are great off the tee for high-handicap players have poor short-game or greenside control. The Titleist Velocity accounts for your needs on the tee and the rest of the fairway.
The Velocity is a 2-layer ball with an LSX core and NAZ+ ionomer cover.
The core promotes excellent energy transfer from the club for superb spring, acceleration, and reduced spin. You can get a strong launch and long carry off the tee with a slow or mid-speed swing.
The NAZ+ cover works the same off the tee as other distance balls. However, it reacts differently to low-impact shots. It sticks better to the club face on a wedge for increased spin.
The Velocity's cover presents 350 octahedral dimples. These aid in straight flights off the tee.
Pros
More greenside spin compared to other distance balls
High energy transfer on driving shots
Low deviance on flight trajectory from high dimple count
Low spin on long shots but a high spin on short shots
Four colors available
Cons
Not as durable as comparable balls
Difficult to feel out in the short game
4. TaylorMade Distance Plus (Best Long Drive)
High-handicap players want to get the ball off the tee and as far down the fairway as possible. The TaylorMade Distance+ is a budget-friendly innovation for high acceleration and reduced drag and spin to maximize your long game.
It'll feel soft in your hand, but the Distance+ carries a 77 compression rating. Mid-swing speed golfers will get optimal launch, while slow swingers may find it arduous to get off the tee satisfactorily.
This ball's React Speed Core is designed to reduce spin and augment energy transfer on long shots. Its ionomer cover also restricts spin and enhances acceleration. These two ingenious layers offer maximum distance and accuracy for high-handicap players.
The surface is covered with 342 aerodynamic dimples to reduce drag while in flight which boosts the ball's apex.
Pros
Rapid ball acceleration
Drag-reducing dimple pattern
Low spin on long shots
Moderate compression rate
Features and alignment aid
Available in white or yellow
Cons
Feels harder off the tee than expected
Limited long-game spin
5. Callaway Supersoft (Best Launch)
A highly praised ball among amateur golfers is the Callaway Supersoft. A high-handicap player can enjoy distance and accuracy from this low-compression ball.
The two-layer construction features a soft compression core for high energy transfer off the club. The super-low compression rate of 38 makes for a high launch off the tee with a blast of acceleration.
The Paraloid hybrid cover creates a responsive surface depending on the impact force. The Callaway Supersoft springs off the club face on drives, but it sticks longer for a better spin on short shots.
Sale
Callaway Golf Supersoft Golf Balls (2021 Version, White)
Supersoft Has Been One Of The Most Popular Golf Balls For Years, And We'Ve Combined Incredible Cover, Core And Flight Technologies To Make It Even Better.
The New Hybrid Cover Features An Innovative Paraloid Impact Modifier Made By Dow Chemical. This Multi-Material Construction Allows For An Incredible Combination Of Fast Ball Speeds From High Launch And Low Spin, Soft Feel, And Excellent Greenside Control.
The High Speed Soft Compression Core Maximizes Energy Transfer To Increase Ball Speeds, While Also Promoting High Launch And Low Spin In Your Longer Clubs For More Distance.
Hex Aerodynamics Is Optimized To Reduce Drag And Enhance Lift For Increased Carry And Higher Flight.
Pros
Maximum spring off the club face while driving
Limits drag with Hex aerodynamics
Rapid acceleration
Five colors available
Cons
Low compression rate best suited to slow swingers
Less greenside spin than comparable balls
Things To Consider When Choosing Golf Balls for High Handicap Players
All of the golf ball recommendations on our list have several characteristics in common. These are points to consider when you choose which golf balls to use as a high-handicap player.
Low To Mid Compression
Your swing speed and golf ball compression rating should match. Lower swing speeds require low-compression golf balls. Novice golfers usually have a slow to mid-speed swing.
A mismatch in swing speed and ball compressions makes it harder to get the ball in the air and achieve a decent distance. Golf ball manufacturers list the compression rating on the package. Anything over 80 is a poor match for most highly handicapped players. The lowest compression rate is 30.
If you notice too much spin with a low compression ball, move up in compression rating to help reduce spin. Some trial and error are necessary to find a good match.
We've created a guide to help you understand what the numbers on golf ball mean.
Affordability
Novice golfers go through many balls between testing out different balls to see what works and losing them on the course. Affordability is an essential consideration.
Prices for 2-piece distance golf balls range between $20 and $30 for a dozen. Price varies by brand, quality, and technology. You can get refurbished or second-hand golf balls for a deep discount, but the quality is much less consistent than with new golf balls.
Low Driver Spin
Too much spin causes the ball to loft high in the air but not go very far down the fairway. Spin can also cause a nasty curve to the left or right. Using a ball with low driver spin will help you improve your range and accuracy off the tee. Less spin also increases the amount of roll you can expect after the ball lands.
Look for balls with an ionomer cover and a side-spin-reducing mantle. Several on the list above have these features to help high-handicap golfers reduce driver spin.
Ball Acceleration
Reducing spin is one part of achieving maximum distance off the tee. The second part is consistent ball speed. The ball should spring off your club and accelerate top speed quickly off the tee.
A golf ball with a soft, large, high-energy core draws more spring off the club face for immediate acceleration. An ionomer cover assists in ball acceleration too.
Launch Height
You don't want to launch your ball into the stratosphere for it to nosedive quickly. That limits your distance. You also don't want to flight the ball too low, which limits the potential carry distance.
Struggling with low shots usually comes from inconsistent ball strikes. That means you are not hitting the ball with the center of the club face on every shot.
Golf balls with drag-resistant dimple patterns enhance your launch by reducing drag so the ball can gain enough height. The dimples also encourage straighter flight and help to reduce the impact of poorly hit shots.
Have you ever wondered how many dimples are on a golf ball? Or how much do golf ball weigh? We've got answers!
Frequently Asked Questions
Choosing the best golf balls for high-handicap players can leave you with more questions.
What is the average men's golf handicap?
The USGA, which played an integral part in standardizing the WHS, tracks handicap index statistics for the whole US. They found that the average handicap for men is 14.2.
What is the average women's golf handicap?
According to the USGA, the average woman has a 27.5 handicap index.
Should high-handicap golfers use the Pro V1?
While this is a popular high-quality ball among experienced and skilled golfers, the Pro V1 has a high compression rate. Since most beginners have a slow swing, a high-compression ball is not well suited for them. Pro V1s are also very expensive and not worth the cost for most players.
Are you actually a mid-handicap players? You're in luck! We recently did a similar article covering the five best golf balls for mid-handicap players.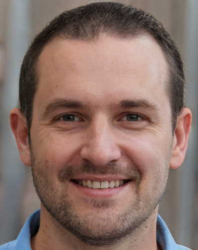 Latest posts by David Shelly
(see all)