Grass is a favorite topic among golfers. Commentary about the length, thickness, and quality of the turfgrass is especially common. However, the different types of grass used on different courses and playing surfaces are not well understood by most golfers.
This article will explore the seven most common grass types used on golf courses, the regions and climate most suitable for each type of turf, common maintenance considerations, and how each type of turfgrass effects the playing conditions.
Considerations When Selecting Turfgrass
Before diving into the seven common grass types, it's important to understand the main factors used in selecting grass for a specific golf course.
Climate is the number of considerations. Most plants (including grasses) are not suitable for all environmental conditions. You might be familiar with the USDA Hardiness Zones already.
Would you plant an orange tree in Minnesota? Obviously not! Golf course grasses are the same way. Temperature, humidity, precipitation, and other climate conditions make all the difference.
Other considerations include the playing surface (greens, fairways, etc.), traffic levels, and soil conditions. For example, turfgrass used on the greens must be able to handle a lot of foot traffic even when cut to very short heights.
The amount of water available, high and low temperatures, and the desired firmness of the turf are also important factors.
Golf Course Grass Varieties
Now let's examine each of the seven most common types of turfgrass varieties used on golf courses.
Bermuda
Bermuda grass is one of the most common types of turfgrass used on golf courses, especially in warmer geographic regions. This durable, drought-resistant, warm-weather grass is widely used across the southern United States. Bermuda is often referred to as the "Sport Grass of the South" since it is so common on golf courses and other sports playing fields in the warmer regions of the country.
Bermuda grasses can be mowed tightly on greens, fairways, and tee boxes; however, it's also happy and health when left to glow longer. Bermuda can easily handle extreme heat and heavy foot traffic. Bermuda grasses also repair themselves easily and propagate quickly.
When cut very short on the greens, Bermuda provides a smooth and true putting surface. However, Bermuda is an especially grainy grass. Grainy grasses grow in a particular direction, and this characteristic can make chipping and putting difficult.
The grain of the grass will move the ball to the left or right and cause certain putts to be especially slow or fast depending on the direction the grass is growing. The grain can also easily catch the leading edge of your wedge when pitching or chipping around the greens.
Another challenge with Bermuda grasses is cold temperatures. Bermuda grass stems can be killed when the air temperature drops below 30 degrees Fahrenheit. This trait makes it almost impossible to use Bermuda in northern, colder, seasonal climates.
Bentgrass
Bentgrass is another common turfgrass used most often on golf courses in cool, seasonal climates. Bentgrass provides an especially smooth, playable surface with thick, almost mat-like characteristics.
The grass does not handle excessive heat well and prefers cool overnight conditions. For this reason, you'll find bentgrass utilized all over the northeast and pacific northwest, as well as midwestern regions.
Bentgrass does not need a lot of water and grows thick, even, and flat with very little grain. This grass can handle heavy traffic and can be mowed very tightly. Bentgass is perfect for greens and fairways and tends to run firm and fast during the spring and fall seasons when the weather conditions are mild.
The main problem with bentgrass is the lack of heat resistance. This turfgrass will suffer greatly when exposed to high temperatures, especially hot conditions in the overnight hours. For this reason, golf courses with bentgrass greens and fairways will often play slow and wet during the warmer month. Superintendents need to water the course excessively to protect the turf when the weather is hot and overnight temperatures remain stubbornly high.
Fescue
Golfers often associate fescue with the long wispy grasses found in and around hazards. We never want to hear our playing partners say, "you're in the fescue." However, fescue grasses can also be used successfully as the short grass on fairways, greens, and tee boxes.
Fescue can handle a wide range of climate conditions and is common in transition zones between hot and cold regions. It is extreme hardy, slow growing, and easy to maintain. It requires little water and is heat and drought resistant. Fescue even performs well in shady areas.
When cut short for greens and fairways, fescue can provide the ideal playing conditions. It's firm, fast, and true. Fescue often produces the desirable bouncy condition found on most links golf courses in Scotland, Ireland, and England.
Kentucky Bluegrass
Kentucky bluegrass is common on many golf courses. It is durable and low maintenance with a great ability for self-repair. It's a very hardy grass and can tolerate a wide range of climates and weather conditions.
However, you will rarely see this type of turfgrass used for putting surfaces since it prefers to grow longer. Kentucky bluegrass is most often used as rough grass and occasionally on fairways. The grass produces a lush, thick, durable turf that is ideal for the longer grass areas just off the fairway.
Poa Annua
Poa annua is a fast-growing, cool-season grass. Many golf course superintendents dedicate considerable time and effort to irradiate poa annua from their courses. For many greenskeepers, poa annua is considered a weed.
Poa annua is extremely tolerant to many difficult conditions found on golf courses. It's tolerant of low-light and damp environments, handles heavy traffic easily, grows very quickly, and spreads or repairs itself easily. These strengths make it great for certain applications, but these same traits also make it so difficult for greenskeepers to manage on their golf courses.
Since it spreads so easily via seed heads, poa annua can invade other grasses and displace them on putting surfaces or fairways. Bermuda greens during cooler months or bentgrass greens during the warmer months are both susceptible to invasion and displacement by poa annua grasses.
When maintained properly, poa annua can play wonderfully as a putting surface, especially right after mowing. Some of the most famous courses in the world (Winged Foot, Pebble Beach, and Oakmont) utilize poa annua on their greens. However, it's fast growth rate and large seed heads will often cause problems when playing the course later in the day and into the evening.
Rye
Perennial rye grasses are not commonly used as the primary golf course turf. You are likely to find rye grass used in some capacity, especially during cooler seasons, however some courses in northern climates will use rye grass on all playing surfaces.
Rye grass grows especially fast and has a beautiful deep green color. Unfortunately, rye grasses do not spread quickly since they don't propagate using rhizomes. This makes maintenance difficult when rye is used on all areas of the course.
Many golf courses will use rye grass to supplement the primary turf during cooler seasons. This is especially true for Bermuda grass courses. Then the Bermuda goes dormant in the cooler months, many superintendents will overseed the fairways with rye grass to improve appearances and playability.
Augusta National over seeds its fairways with rye grass for the annual Master's Championship, the first of the four major championships of the year. That's a great endorsement, right?
Rye grasses grow upright and have a pleasant, fine texture which allows for beautiful mowing patterns. However, rye grasses do require a lot of water, so expect "sticky" and wet conditions if your course is overseeding with rye in the autumn months. Rye grass also doesn't handle heat well and does not like to be cut too short.
Zoysia
Zoysia is a warm-season grass that is also cold-tolerant and used in transition zones between hot and cool climates. It requires very little water enabling the golf course to play firm and fast.
Zoysia stands up extremely straight and has almost no grain. The blades of grass are very ridge and tightly packed together. This makes it great for putting surfaces. It's straight posture and tight configuration also provides excellent lies in the fairway, almost as if the ball has been teed up off the ground for you.
That said, zoysia will often play with a "sticky" feel. The clubhead has a tendence to catch the ground easily on pitch and chip shots. The ball is also likely to grab the turf and stop quickly when playing a bump and run shots around the green.
Unfortunately, zoysia is difficult to maintain. It is highly susceptible to disease and requires frequent protective measures and different chemical applications to keep the grass healthy and free of mold, fugus, and other diseases. The upkeep is often too expensive for most course to even consider.
Turfgrass Wrap Up
As you can see, different types of grass perform better in different regions and for different applications around the golf course. Each grass type has its own advantages and disadvantages for the players as well as for the greenskeepers and grounds crew.
Feel free to comment below. What grasses do you usually play on? What's your favorite turfgrass for putting surfaces?
What types of grass are used at St. Andrews?
St. Andrews primarily uses fescue and bentgrass for its playing surfaces. However, perennial rye grass, Yorkshire fog, and poa annua are all present on the course as well. Eliminating these invasive grasses is nearly impossible and may not be desirable considering the extremely high traffic levels at The Old Course.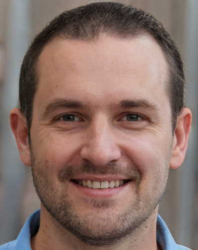 Latest posts by David Shelly
(see all)