If a beginner commits to receiving instruction and practices frequently enough to acquire confidence in his swing, the road towards becoming a competent golfer might be shortened.
We'll focus on good golf scores for novices in this fast guide to ease your mind. Please go ahead and jump to the area that pertains to your age group. We shall discuss scores for novices, junior golfers, adult players, and senior golfers.
What Is A Good 9-Hole Golf Score?
A score of 45 (or bogey golf) is a good baseline score for 9 holes, but multiplying it by two gives you a score of 90 for around 18 holes. Golfing with an average of bogey is common for many players and is usually considered average.
What Should A Beginner's Golf Score Be?
As a rookie golfer, breaking 90 is excellent. It is best set an initial goal of breaking 100 for a round of 18 holes and attempt to reach it as soon as you can. Next, set your sights on reaching 90.
What Is A Decent Handicap For A Rookie Golfer?
Breaking 90 is tough for beginner golfers, and it is certainly a significant achievement. Handicap index of 18 and below would be excellent for a novice, as 90 will be 18 strokes over par. A beginner's handicap is likely to be greater than 20 and many players will never achieve a lower handicap. 
Related article: The Ultimate Guide To Average Golf Handicaps
Is It Important To Have A Good Golf Score When You're A beginner?
Let's be honest about this. Golf is a difficult sport to master. It's not easy to hit a little ball on a fairway hundreds of yards away! Then, while on the fairway, putting the ball on the green is an even bigger challenge. Most players will require two or three putts to actually get the ball in the hole.
None of this even considers chipping or bunkers or any of the other challenges faced in a normal round of golf. Out of boundaries water, sand, markers, dense grasses, bushes, and other things await you as you make your way from the tee to the green.
You must overcome mental as well as physical obstacles.
Which clubs to use, at what distance to strike the ball.
What effect could the wind have on the shot?
Will you hook or slice the ball?
Will you chunk or top the ball?
In a couple of moments, a slew of different thoughts go through our heads. Many golfers get stressed in trying to achieve a decent score as though their lives depended on it.
Some people even cheat or mislead about how well they did on a particular hole. Is it out of humiliation, or would it be their true character that the game of golf has brought out?
Overall, don't be too concerned if you're a rookie golfer who isn't scoring well. You still have plenty of methods and time to develop.
Why Should You Relate Your Score Card To That Of Others?
In an ideal world, we would advise you to avoid comparing oneself to other people in both life and golf. There are lots of factors that influence everyone's game, and you could be a few adjustments away from achieving considerably lower golfing scores.
But we know you're looking for a specific response so you can compare yourself to other golfers across the globe. In this article, young golfers will make up the first section, while adult golfers make up the second. In addition, we'll discuss senior scoring habits.
What Is An Appropriate Score For A Young Golfer?
Since they're not completely grown in size as well as muscle, younger golfers have their own grouping. Consider a 9 year old attempting a 400 yd par four. He'll most likely take 4 or 5 strokes to get to the green and then another 2 or 3 putts, putting them around 7-8 strokes.
The optimum score would be 136 if he averaged 7 shots a hole throughout 18 holes, and 180 if he averaged 10 strokes per hole. If you're a young player (5 -12 years) who can make 100, you're already among the best ten percent in your age group.
Golfers in middle school (ages 12 to14) ought to be capable of reaching most greens within regulation and, as a result, should really be capable of breaking 100.
A typical middle school score should be in the range of 100-110. Once you can break 100, you'll be in good condition to make the high school team within several years if you keep working on your distance, strength, and short game.
Most schools require scores in the 80s and 70s to make varsity. For 9-hole matches, the majority of varsity golfers scored within 36 to 43.
For young golfers, a decent score is:
Under 12 – 120.
12 to 14 – 80s and 90s.
Many golfers in this category compete in local, statewide, and national competitions. They also have lots more time to practice the sport and a strong willingness to make the high school squad.
What Is A Decent Adult Golf Score?
Since you are completely matured and have adequate strength to hit every green in regulation, the scores will be different for grownups.
The typical adult male drives his driver about 220 yards, yet we frequently see golfers with scores in the 70s and 80s driving the ball far further.
On average, the top players in the game can hit drives of 300-350 yards. Many strong golfers strike the ball between 250 and 290 yards, whereas beginners will hit it between 210 and 270 yds.
Because adults can strike the ball at longer distances, their short game ability is usually the deciding factor. How good are your putting and chipping skills? Can you get the chip shot near to the hole and sink your putt to rescue your par?
According to data, 45 percent of all players have a round average of over 100 strokes every round. As a result, it is thought that a 108 is a great result for a rookie golfer.
It's also impressive if you're a newbie and break 100 and perhaps even 90 points. Only one percent of golfers in the globe ever get to scratch.
What Is A Good Senior Golf Score?
For most senior golfers, a score in the 80s will be considered a decent score. Why is this the case? With time, senior golfers' club distances will decrease and their touch and feel around the greens might decline. Seniors should seriously consider a shift from the ordinary tees to a senior specific tee box.
Seniors are required to play more golf strokes using their hybrids and woods to approach the greens in regulation as their club speed declines with age. Aside from losing range from their clubs, many senior players can still shoot in the 80s, but top senior players can shoot in the 70s.
Don't let the fact that you're becoming older deter you from getting started with golf. You'll develop at good rates if you dedicate the time and get professional instruction.
If your scores are rising and you haven't yet made the switch to a senior tee box, our best advice is to do so. This should make the whole thing more enjoyable again by allowing you to score pars and birdies.
Final Thoughts
One of the drawbacks of worrying over scores and contrasting them to someone besides yourself, is that you may become deflated if you don't match the specified standards.
Instead, focus on just improving your game such that your average score decreases over time. As a result, you will naturally improve in comparison to the typical golfer, and you will be able to improve even more as your confidence improves.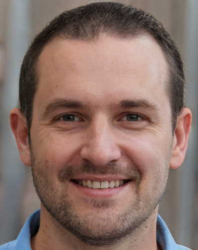 Latest posts by David Shelly
(see all)