Golf gloves are very common for golfers to wear and they have a lot of benefits. Some people dislike playing golf without wearing gloves, whereas other golfers dislike wearing them altogether. The majority of golfers struggle to play without wearing golf gloves, but what do they do?
As they are very common, you may have seen lots of golfers wearing them. If you are a beginner golfer, you may be unsure if you should invest in a glove. There are lots of advantages to wearing golf gloves, but what are they?
This article will explain more about golf gloves and how they can improve your performance when you are playing golf on the course. Find out below if golf gloves are something that should always be worn when playing golf and if they are something that you should purchase.
What Hand Should A Golf Glove Be Worn On?
The most common way that people wear golf gloves is to wear one on their non-dominant hand. Therefore, if you are right-handed, you should wear a golf glove on your left hand. If you are left-handed, you should wear a golf glove on your right hand.
If you have seen golfers only wearing one glove, you might be confused about why. But why wear them at all?
Why Should Golf Gloves Be Worn?
The main reason that golf gloves are worn is to stop the golf clubs from slipping and sliding in your hands. When you are playing golf, your hands can begin to get very sweaty, which can affect your performance on the course.
Wearing a golf glove can prevent the club from sliding down your hands, which will improve your accuracy.
If it is raining, golf gloves will improve your grip on the club as the rain will make it slippery. This can affect how you are holding your club and make it impossible for you to play, so people prefer to wear a glove so that your hand remains firmly in place on the club. 
You can even purchase rain gloves that are specifically designed for better performance in wet conditions.
FootJoy Men's RainGrip Pair Golf Glove Black Large, Pair
QUICK-DRY COMFORT - The II knit material along the back of the fingers, assures optimum breathability, flexibility and quick-drying comfort.
BALLMARKER - A removable ball marker offers golfers a quick and easy solution to mark their ball.
SOLD IN PAIRS - FJ Rain Grip gloves are sold in pairs.
PRECISE FIT - The angled Comfortable closure is strategically positioned for a precise fit and stress-free comfort.
WET-WEATHER GRIP - The auto suede knit palm provides an unmatched grip in wet or humid conditions, conforming to both your hand and club for a secure grip and maximum control.
When you are playing golf, you may notice that the skin on your hands is becoming harder. Wearing gloves can protect your hands from any damage and stop the skin on your hands from becoming calloused and tough.
Should You Wear One Glove Or Two Gloves?
Almost all golfers wear one glove. The main reason that golf gloves are worn is to improve your grip on the club, so golfers decide to only wear the one as the front hand is the one that needs the most grip. This helps to secure your grip on the club and to keep your hands in place. 
Other golfers prefer to wear two gloves when it is raining or when it is cold as they protect your hands from becoming slippery or stiff. The gloves mean that you can keep gripping the golf club and that your playing will not be affected, so they prefer to wear two gloves.
Golfers who find that their hands are very sweaty prefer to wear two gloves as this keeps the club firmly in place for them to play. It is up to you how many gloves you decide to wear when playing as some people prefer wearing one, but others prefer to wear two.
Should Gloves Be Worn For All Shots?
You should only wear your gloves when you feel comfortable wearing them. Some people like to take their gloves off when they are chipping and/or putting, but others prefer to keep them on at all times.
There is no right or wrong answer as to when you should wear your golf gloves when playing, it is down to personal preference.
Tips For Choosing Golf Gloves
When you are choosing what golf gloves you should wear, there are a few things that you should consider to get the best pair for you. Taking these tips into consideration will allow the gloves to help improve your golfing performance, not hinder it.
Take Spare Gloves
If your hands are very sweaty and you prefer to wear gloves when you are playing, it is a good idea to take spares to keep in your bag. The more moisture that is inside the glove, the less grip and accuracy you will have when playing.
Your hand will still be slippery inside the glove, and even though it can grip the outside, the sweat inside will affect your swings. Carrying spare gloves will keep your performance high-quality and you will see a big improvement in your accuracy.
Taking a couple of spare gloves will make sure that you have enough to use and you won't be at risk of your club sliding out of your hands in the middle of a shot. 
Related article: How To Clean Golf Gloves
Consider Wide-Handed Gloves
If you have wide hands, don't try to use regular fitting gloves as they will not provide you with any additional benefits.
Cadet-sized gloves are very beneficial for people who have wide hands and shorter fingers, as if the fingers of the gloves are too long, you will not be able to hold the club properly. 
If the gloves are too narrow, you will not be able to move your hands properly when you are playing. Therefore, choosing gloves that fit you is very important as it can affect your performance if not.
If you are not wide-handed, do not choose these gloves as they will be too big. You will not be able to hold the club properly, so choose the right size.
Choose Gloves That Are Tight, But Not Too Tight!
Your golf gloves need to be tight enough that they fit securely on your hands, but not too tight that they limit your movement. The reason that golf gloves need to be tight is to make sure that they stay in place.
If they are too loose, they will slide off your hands and affect the way that you play. There is no point in having a grip on the club if your gloves will slide off instead!
Tighter gloves make sure that you can comfortably hold the golf club, but too tight and you won't be able to move properly. You should try gloves on, if they are your first pair, to make sure that they are comfortable for you.
When you find a pair that you like, purchasing several pairs will allow you to rotate them and have spares.
Final Thoughts
To conclude, golf gloves are very popular as they improve the grip on a golf club, which can improve performance when playing.
Golfers wear golf gloves on their non-dominant hands, but some people prefer to wear two gloves if they have sweaty hands or if it is raining. It is advised that you carry spare gloves in these situations so you can change into a dry pair.
Choosing gloves that fit you properly is important for enhancing your grip. If the gloves are too tight, your movements will be restricted, but if the gloves are too loose, your grip will not be secure.
Try gloves on to make sure that you are happy with how they fit and that they are the right size for you.
Having extra pairs of gloves is important, so when you find some that you like, buy a few!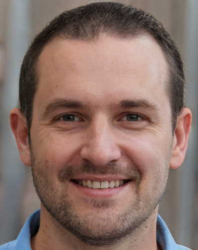 Latest posts by David Shelly
(see all)